WRLD1 Launches FDACDC.com, independent News Network &  Public Forum, a timely perspective and information resource for general health guidance inclusive of COVID Federal health agency  information and updates,  providing factual science driven information within a cohesive context of clinical consensus to mediate the US Covid Wars as Planet Earth enters the 3rd year of the COVID pandemic.
Nathan Sassover, Founder / CEO of WRLD1.com and affiliates, COVID19TV.com, FDACDC.com,  Covacx.com today stated:   'The world is "done" with COVID…but COVID is not done with the world. This is now the enduring 'Paradox of the Pandemic' has become both a catalyst and mirror of our national discontent."
Sassover continued: '2021 can arguably be viewed as a tsunami of divergent and polarizing views, clashing narratives, confusion and contradictory clinical guidance emblematic of our devolving dysphoria.'
Sassover added: " The US and the world at large has now undeniably and definitively reached an unimaginable inflection point thrusting the global population into the vortex of a seemingly unknowable health threat aggressively  hybridized into 'Omicron'  a more complex viral foe which arrives to inaugurate the new year.
COVID and its enlarging clinical and medical iterations has brought to the fore the fragile co-existence of our primary US Health Services Administration and its affiliates, the FDA and CDC.
"We have now entered 2022, the third year of the Covid Wars,  and the multiplicity of factors colliding have created an amorphous process of medical/governmental responses globally often lacking any coherent and unified platform and still altering responses to the recurring question:
'What does it take to be 'fully vaccinated' …while daily pronouncements are vague, at times blatantly contradictory, and undeniably inconclusive.  A carousel of 'booster shots' seemingly and randomly proposed without any underlying time based empirical evidence to support  vague decision making at the clinical level is increasingly defining the modus operandi of the Federal health agencies in the US and also extending to other regions of the world. "
Covid Perspective : The Week Ahead: January 16 2022:
COVID PSYCHO DYNAMICS
The Way We Live Now
Among all the vaccines clinically validated, medically sanctioned and globally administered, namely diphtheria, tetanus, measles, mumps, rubella, chickenpox, hepatitis, meningitis and tuberculosis including flu and pneumonia, the world has never seen a vaccine created, promulgated and promoted aggressively that forced recipients to wear a mask or double masks, be compelled to maintain conflicting levels of social distance, even following double, triple or quadruple vaccinations inclusive of boosters.
There has never in modern times existed a vaccine produced by several globally credentialed pharmaceutical companies that continues to spread the virus moderately to virulently even after vaccination.
The world has never encountered  rewards, discounts, incentive efforts and massive initiatives to urge, persuade, convince threaten and intimidate the populace into getting vaccinated.
The world never encountered discrimination for those who didn't comply– the unified response from government and other 'authorities' is castigation and judgment as social pariah.
Never has  a vaccine existed that increasingly threatens the relationship between family, colleagues and friends, nor a vaccine used to threaten livelihoods, work or attendance at schools. The world has never witnessed the existence a vaccine that would allow a 12-year-old to override parental consent.
After all the vaccines listed above,  no vaccine like this one has emerged in history which discriminates, divides and judges society as impact of these decrees  forces the social fabric and civility to diminish daily. Yes…It's a most  powerful vaccine! It does all everything noted above except IMMUNIZE.
A miracle of science: a booster dose after we are fully vaccinated, yet we still need a negative test after being fully vaccinated, as well as still need to wear a mask– after being fully vaccinated, and very possibly still be hospitalized after being fully vaccinated.
Is it conceivable It's time for us to admit in global unison that we've been completely deceived."
January 13 2022-Wall Street Journal
Video Overview:
'
State
of
the
Covid
Nation'
https://www.wsj.com/articles/omicron-has-killed-certitude-fauci-follow-science-biden-covid-censorship-misinformation-variant-11642024638 
The emerging data indicates in review of preprint studies  concluded the following:
 ■ After 30 days the Moderna and Pfizer vaccines no longer had any statistically significant positive effect against Omicron infection
■ After 90 days, their effect went negative—i.e., vaccinated people were more susceptible to Omicron infection. 
■ Confirming this negative efficacy finding, data from Denmark and the Canadian province of Ontario indicate that vaccinated people have higher rates of Omicron infection than unvaccinated people.
---
Overview : FDACDC.com
FDACDC.com  provides current and evolving viewpoints in reference to the range of worldwide medical observations as  expressed by medical teams including Oxford University and emerging clinical and medical information, data and perspectives from a cross section of medical centers and academic research centers globally.
Caitlin Owens of Axios reports:
■ A series of messaging missteps is threatening the credibility of federal health agencies, and critics say the White House isn't doing enough to manage the fallout, 
Why it matters: While much of the unvaccinated population is unlikely to be persuaded by any messenger, large swaths of the public are still receptive to expert guidance, but federal health agencies, particularly the CDC, may be squandering their credibility with this population. 
■ The Biden administration has a COVID credibility crisis A series of messaging missteps is threatening the credibility of federal health agencies, and critics say the White House isn't doing enough to manage the fallout.
January 14 2022-EMA-European Medicine Agency
COVID
Europe's drug regulator warns excessive COVID boosters could lead to 'problems with immune response,' joining WHO in pushback
Another influential voice joining the growing pushback against overdoing it on the COVID booster front: the European Medicines Agency (EMA).
■ On Tuesday, EMA vaccine strategy chief Marco Cavaleri said there was still no data supporting the need for a fourth COVID vaccine dose—and even if multiple boosters do prove to be necessary, they would need to be spaced out in the style of annual flu jabs, rather than delivered every several months. He also warned that overly frequent booster doses could potentially lead to "problems with immune response."
"While use of additional boosters can be part of contingency plans, repeated vaccinations within short intervals would not represent a sustainable long-term strategy," Cavaleri said at a media briefing. He also said boosters "can be done once, or maybe twice, but it's not something that we can think should be repeated constantly."
Growing Resistance
The World Health Organization also said Tuesday that vaccination strategies "based on repeated booster doses of the original vaccine composition [are] unlikely to be appropriate or sustainable." The WHO also repeated its frequently expressed warning that giving primary vaccinations to those in poorer countries was a higher priority, and urged vaccine-makers to provide data on the vaccines they are developing to target new variants.
Pfizer CEO Albert Bourla said this week that it is still unclear whether fourth doses will be needed, while Israeli expert Professor Eyal Leshem suggested "it is possible that people who have had two or three doses of the current vaccines, and then been exposed during this wave to Omicron, or are exposed during future waves to other less virulent variants, will not need another booster at all." The U.K.'s Health Security Agency said Friday that there was "no immediate need" for those who are not particularly vulnerable to get a second booster.
Never miss a story about COVID-19 vaccines
FOLLOW THE AUTHOR:
Despite the lack of supporting data, Israel has moved to fourth Pfizer/BioNTech doses for over-60s, health workers and immunocompromised people. Bourla's counterpart at Moderna, Stéphane Bancel, said last week that additional boosters could become necessary by the coming fall.
Endemic Phase
In line with a sentiment that is starting to be expressed by European leaders, Cavaleri also said the rapid spread of the Omicron variant might help bring the continent out of the pandemic. "With the increase of immunity in population—and with Omicron, there will be a lot of natural immunity taking place on top of vaccination—we will be fast moving towards a scenario that will be closer to endemicity," he said.
Also on Tuesday, Professor David Heymann of the London School of Hygiene and Tropical Medicine said the U.K. was likely to become one of the first countries to emerge from the pandemic, with around 95% of the population now having antibodies against COVID that were gained via vaccination or infection.
■ We can't vaccinate the planet every six months,' says Oxford vaccine scientist
By Niamh Kennedy and Jack Guy, CNN
Updated 11:05 AM ET, Tue January 4, 2022
■ (CNN)A leading expert who helped create the Oxford-AstraZeneca Covid-19 vaccine said January 4 2022 that giving everyone in the world booster shots multiple times a year is not feasible.
"We can't vaccinate the planet every four to six months. It's not sustainable or affordable," Professor Andrew Pollard, the director of the Oxford Vaccine Group and head of the UK's Committee on Vaccination and Immunization, told The Daily Telegraph in an interview published Tuesday.
Pollard also stressed the "need to target the vulnerable" going forward, rather than administering doses to everyone age 12 and older. More data is needed to ascertain "whether, when and how often those who are vulnerable will need additional doses," he said.
Pollard also said he thought further evidence was needed before offering a fourth Covid-19 shot to people in the UK currently rolling out third shots to healthy people 18 and older, and at-risk people 16 and older.
COVID NEWS HIGHLIGHTS:
CDC OPINION/ New York Times
CDC Is Hoping You'll Figure Covid Out on Your Own
Opinion Columnist
I have some good news and some bad news, and they're both the same.
Seven independent lab studies have found that while Omicron's mutations make it exceptionally good at causing breakthrough cases even in people who have been vaccinated or previously infected, they also render it less able to effectively infect the lower lungs, a step associated with more serious illness. Plus, in country after country where Omicron has spread, epidemiological data shows that vaccines are still helping prevent severe disease or worse.
Why isn't that unalloyed good news? Because it's just luck that this highly transmissible variant appears to be less dangerous than other variants to those with prior immunity. If it had been more deadly — as Delta has been — the U.S. government's haphazard and disorganized response would have put the whole country much more at risk. Even with this more moderate threat, the highest-ranking public health officials are making statements that seem more aimed at covering up or making excuses for ongoing failures, rather than leveling with the public.
Nowhere are these issues more apparent than on the confusing and zigzag messaging around rapid antigen tests and N95 masks, both of which are important weapons in our arsenal.
With a barrage of cases threatening vital services, the Centers for Disease Control and Prevention announced on Dec. 29 that people could return to work, masked, five days after they first learned they were infected, arguing that many people are infectious for only a short period. People could return to work even while still sick, as long as their symptoms were abating.
It's not unreasonable to shorten quarantine for some, especially if they are vaccinated. Other countries have allowed infected people to isolate for a shorter time with the added precaution that they take rapid antigen tests to show they are negative two days in a row.
Why doesn't the C.D.C. call for that added measure of safety? Its director, Dr. Rochelle Walensky, has explained this by saying, "We know that after five days, people are much less likely to transmit the virus and that masking further reduces that risk."
"Much less likely" isn't zero, and the likelihood probably varies from person to person. All this means that some would continue to be infectious. So wouldn't it be great if we could tell who was probably still infectious after five days, and took extra precautions, while allowing people who may be clearing the virus even faster than five days to stop isolating earlier?
Not according to our top officials.
"We opted not to have the rapid test for isolation because we actually don't know how our rapid tests perform and how well they predict whether you're transmissible during the end of disease," Walensky said on Dec. 29. "The F.D.A. has not authorized them for that use."
Dr. Anthony Fauci, the president's chief medical adviser, argued the same, also on Dec. 29. Referring to antigen tests, he said, "If it's positive, we don't know what that means for transmissibility" and that these antigen tests aren't as sensitive as P.C.R. tests.
Might the real reason be that rapid tests are hard to find and expensive here (while they are easily available and relatively cheap in other countries)?
Is it possible that rapid tests are a good way to see who is infectious and who can return to public life — and their lack of sensitivity to minute amounts of virus is actually a good thing?
 Let's ask a brilliant scientist and public health advocate — Rochelle Walensky, circa 2020.Walensky, who was then on the faculty of the Harvard Medical School and chief of the division of infectious diseases at Massachusetts General Hospital, was a co-author of a paper in September 2020 that declared that the "P.C.R.-based nasal swab your caregiver uses in the hospital does a great job determining if you are infected but it does a rotten job of zooming in on whether you are infectious."
That's right, the key question is who is infectious, who can pass on the virus, not whether someone is still harboring some small amount of virus, or even fragments of it. P.C.R. tests can detect such tiny amounts of the virus that they can "return positives for as many as 6-12 weeks," she pointed out. That's "long after a person has ceased to pose any real risk of transmission to others." P.C.R. tests are a bit like being able to find a thief's fingerprints after he's left the house.
So what did 2020 Walensky recommend? "The antigen test is ideally suited to yield positive results precisely when the infected individual is maximally infectious," she and her co-author concluded.
The reason is that antigen tests respond to the viral load in the sample without biologically amplifying the amount and being able to detect even viral fragments, as P.C.R. tests do. So a rapid test turns positive if a sample contains high levels of virus, not nonviable bits or minute amounts — and it's high viral loads that correlate to higher infectiousness.
What about the objection that rapid antigen tests don't always detect infections as well as P.C.R. tests can?
The 2020 Walensky wrote that the F.D.A. shouldn't worry about "false negatives" on rapid tests because "those are true negatives for disease transmission" — meaning that people are unlikely to spread the virus even if they have a bit of virus lingering. In other words, the fact that rapid tests are less likely to turn positive if the viral load isn't high is a benefit, not a problem.
Rapid tests do have their own considerations. Since you can become infectious even a day or two after getting a negative result on a rapid test, the Walensky of September 2020 noted that rapid tests are most useful if they are used frequently. A paper she co-wrote in July 2020 found that if a test was used every two days it would allow for safely reopening colleges.
The brilliant explanations of Walensky in 2020 leave me at a loss to explain why President Biden said on Dec. 22 that "I wish I had thought about ordering half a billion" rapid tests two months ago. Indeed, why didn't officials do so two months ago, or 10 months ago?
The administration needs to do more to ramp up production of what should be one crucial tool in controlling the spread of the virus and allowing people to return to normal.
It's hard not to worry that officials may be denigrating rapid tests now for the same reason they denigrated the use of masks early in the pandemic — we don't have enough of them. Fauci essentially acknowledged this about masks, saying that the public health community had feared that they "were in very short supply" — a fair concern, but that's not what we were told. I wouldn't be surprised if officials eventually admitted the same about rapid tests.
We're also hearing the same paternalistic argument about the tests that officials once used to explain why people shouldn't wear masks — that it would provide them with a false sense of security that would lead them to abandon other necessary precautions.
What if people stop washing their hands because masks made them feel more confident? Top officials at the World Health Organization asked me that in the spring of 2020. A September 2020 article about rapid tests in Nature noted that people like the virologist Marion Koopmans worried that if these tests became more widely available, people would just use them and say, "It's negative, so I'm clear.
■ The threat of a "false sense of security" has been used against everything from seatbelts to teaching young kids how to swim (because that would supposedly encourage parents to stop watching their children in the water!). Research and common sense shows what one would expect: Safety measures make people safer and people who choose to use them are looking to be safer — if anything, they do more of everything. (Parents should watch their young children in the water, but kids who learn to swim are less likely to drown.)
That's why it was extra disappointing to hear Walensky argue recently that "if you got a rapid test at five days and it was negative, we weren't convinced that you weren't still transmissible. We didn't want to leave a false sense of security. We still wanted you to wear the mask."
To start with, what if you were to test positive? People who test negative are less likely to transmit the virus — so even if Walensky's argument were true and these people would then not be using masks, this would be less of a problem than having an infectious person in public when a rapid test could have kept him or her in isolation.
Besides, if health officials told people to wear a mask for five more days even after they tested negative on the fifth day, responsible people would likely still do so. Extra information doesn't automatically turn responsible people into irresponsible ones.
■Now, about those masks:
The CDC still says that some N95s should be reserved for health care workers, even though they provide better protection for the wearer and the public than cloth or surgical masks, and even though there is no longer a shortage of them.
According to Walensky, N95s "are very hard to breathe in" and "are very hard to tolerate" so she worries that "if we suggest or require that people wear an N95, they won't wear them all the time."
Yet I've worn N95s many times, and there are many comfortable ones — some better than cloth masks because the seal is so good that my glasses don't fog up. And if it were a problem, why hasn't the C.D.C. made sure there were more comfortable ones available?
Dr. Abraar Karan, an infectious disease specialist who's pushed for more protective masks for the public from the beginning, recently pointed out that as far back as 2008, N95s have been approved for public use during a public health emergency. What happened to that now that we have an actual pandemic?
Even my own doctor complained that he wasn't sure which ones being sold were counterfeit — baffling that this is still a problem, even two years in.
Why hasn't the government organized a system to guide people to buy real N95s? Or better yet, how about mailing some to people free? At a minimum, Walensky could tell people that N95s are more protective and let people opt for them if they chose.
All this has left people with the sense that they are on their own, searching for guidance and getting more confused, and perhaps wondering why the government seems so unprepared for the latest Covid wave.
So what now?
Until we have enough tests, we need to triage their use, making them a priority for critical infrastructure like hospitals, emergency services, public transportation and schools.
We also need to stop asking that people who test positive on an antigen test confirm it with a P.C.R. test, as many workplaces still do.
Doctors have told me that people who needed test results were flooding emergency rooms, clogging up the operation and perhaps getting infected just as they received a test saying they were negative.
Students and teachers are returning to classrooms without reliable access to tests. With many districts failing to invest enough in ventilation and HEPA air filtration to lower airborne transmission, there will be outbreaks in schools. We can't just keep telling parents that most children will be fine. And when those rapid tests finally become available, will we have to convince parents that the same tests that were supposedly not useful are suddenly able to detect infectiousness?
Which brings me to another important question: Why aren't we rushing to do studies to gauge the infectious period for Omicron? Why didn't we start in late November when it became clear it would be causing many breakthroughs and a rapid increase in cases?
After hearing people around me say they were testing positive on Day 8, 9 and beyond even if they were double- and triple-vaccinated, I did an informal poll on Twitter asking people infected in the Omicron wave when they stopped testing positive.
More than 2,600 people responded, and a whopping 43 percent said they had tested positive on rapid tests on Day 8 and beyond, while about 30 percent said they were testing negative on Day 5 or even earlier.
The immunologist Michael Mina, a longtime advocate of rapid tests, thinks people may either be quickly clearing the virus, or the virus may take hold and replicate well for a longer time — something lab studies suggest is happening, and reflected in my informal poll. So the five-day period can be too long or too short.
Once I ran the survey on Twitter, I heard from a lot more people, too, with stories of both prolonged positives and quick negatives, but also frustration.
Why, two years into the pandemic, is anyone relying on my survey to try to puzzle through whether they should see a grandparent or an elderly relative, or go back to work if they are still testing positive? Why are we still trying to figure this out on our own?
On Tuesday, the CDC updated its guidance to say that "if an individual has access to a test and wants to test" and is positive after five days, he or she should "continue to isolate until Day 10." So is the C.D.C. now conceding that people who test positive are indeed still infectious? And if they don't have a test, or don't want one, no worries?
The job these officials have is tough, given both the reckless political opposition even to vaccines and the inevitable criticism even from people who support public health measures. Still, it's so disappointing to enter 2022 with 2020 vibes, scouring for supplies, trying to make sense of official declarations that don't cohere, and wondering what to do.
The government can help us pull out of this fog, but it should always be based on being honest with the public. We aren't expecting officials to have crystal balls about everything, but we want them to empower and inform us while preparing for eventualities — good or bad. Two years is too long to still be hoping for luck to get through all this.
The Times is committed to publishing a diversity of letters to the editor. We'd like to hear what you think about this or any of our articles. Here are some tips. And here's our email: letters@nytimes.com 
Federal courts considering the Biden administration's vaccination mandates—including the Supreme Court at Friday's oral argument—have focused on administrative-law issues. The decrees raise constitutional issues as well. But there's a simpler reason the justices should stay these mandates: the rise of the Omicron variant. It would be irrational, legally indefensible and contrary to the public interest for government to mandate vaccines absent any evidence that the vaccines are effective in stopping the spread of the pathogen they target.
Yet that's exactly what's happening here.
New Covid-19 cases | United States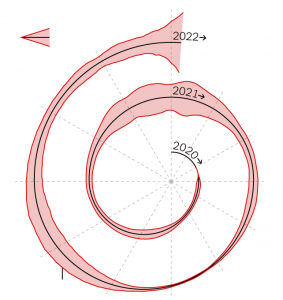 By Jeffrey Shaman
Dr. Shaman is an infectious disease modeler and epidemiologist at Columbia. His team built one of the first Covid-19 models.
The Omicron variant is spreading widely and infecting large numbers of people, including the vaccinated and those previously infected with the virus. While spikes in cases have been the norm for the past two years, there are clear indications this wave will differ substantially from previous ones.i
The record number of cases in the United States and globally is largely because Omicron is more contagious than other variants and has a greater ability to evade immunity to infection. At the same time, early evidence indicates that it's less common for people infected with Omicron to experience severe disease and end up in the hospital. This has important implications when estimating just how disruptive Omicron will be in terms of deaths, hospitalizations and work and school interruptions.
To assess the future burden of a variant like Omicron, epidemiologists like myself often turn to mathematical modeling and projection. The idea is to use a computer-based representation of how the virus spreads to simulate potential future outcomes.
It is important for modelers to explore the unknowns around Covid. For instance, evidence indicates that Omicron is more transmissible than the Delta variant, but by how much? By incorporating uncertainties into our models, we don't merely project a single outcome. Instead, we create a distribution of outcomes, much like the cone of uncertainty used for a hurricane landfall forecast.
Projecting the Covid-19 burden is also more difficult now because of the December holidays. Reporting of cases is often delayed during the two weeks beginning shortly before Christmas until shortly after New Year's Day. As a consequence, reported case numbers can give the misleading short-term appearance of steep case increases, or even declines.
All these issues create uncertainty and limit how far we can reliably project the burden of Omicron. My inclination is that four to six weeks is as far as modelers should routinely project.
So what does my team see for January 2022?
Our models project that the United States is likely to document more Covid-19 cases in January than in any previous month of the pandemic, but a smaller fraction of those cases will require hospitalization. Whether hospitals experience more or less strain than they did in January 2021 will depend on case numbers and how severe they are. For example, if twice as many people become infected but these people are half as likely to be hospitalized, the demand for hospital beds would be the same. This calculus also applies to estimated deaths from the virus, as well as expected disruptions to the work force.
January will likely see a record number of cases
Total new Covid-19 cases by month, United States 25 million total cases.
Our projections depict a rapid surge of cases nationally that peaks at record high numbers during the first one to three weeks of January. Just how many? Our middle-of-the-cone projection produces five million cases during the worst week but ranges from three million to more than eight million cases. And the estimates vary by location. New York City is projected to peak during the first week of January; other locations peak later.
As we move deeper into January, it will be important to monitor whether the steep rise of Omicron cases is followed by a rapid decline, as has been seen in South Africa. This would make the Omicron wave intense but short-lived. However, a rapid decline is not guaranteed. South Africa has a younger population compared to the United States, and younger people are more likely to have mild, undetected infections. South Africa is also in summer, which is less favorable for virus transmission.
Other countries like Britain, which has demographics more similar to the United States and is also in winter, will be critical to watch. If Britain also experiences a rapid case decline, that may bode well for the United States.
The implications for hospitalizations and deaths here from the Omicron wave are even less certain. While Omicron is causing record numbers of infections, the hope is that vaccinations, booster shots and prior infections by other variants will still protect most people from the worst effects of the virus. Early evidence supports this conclusion. However, Omicron may still greatly affect our daily lives in other ways: If teachers test positive and schools move to remote instruction; if flights, subways and buses are disrupted because of a lack of workers, or if elective surgeries are postponed because of staffing shortages.
What will happen beyond January? We don't yet know the ultimate fate of SARS-CoV-2 and all its variants. The future burden of Covid depends in large part on whether highly transmissible variants able to evade pre-existing immunity, such as Omicron, continue to emerge.
If new variants arise roughly twice per year, for example, then we should expect multiple outbreaks each year, even in the summer. If such variants emerge less frequently, then outbreaks might occur annually or even less frequently. The severity of these outbreaks will depend on the characteristics of those new variants and whether prior infections, vaccination and new drugs can keep people at a lower risk of severe disease.
The long-term implications of Omicron remain unknown, but in the near- term, everyone should expect an intense month of disruption. Still, the familiar advice remains the best: get vaccinated, get booster shots and prepare for a bumpy January.
Jeffrey Shaman (@ShamanJeffrey) is an infectious disease modeler and epidemiologist in the Department of Environmental Health Sciences at the Mailman School of Public Health at Columbia.
Israel: Case Study
A COVID Microcosm of massive infection trends, Multiple Booster Shot Initiatives and Shifting Vaccination Theory
Israel has already begun its rollout of a fourth vaccine dose, offering it to all medical workers and people 60 and older as of Monday.
And in late December, German Health Minister Karl Lauterbach told public broadcaster ZDF that Germans "will need a fourth vaccination" against Covid-19.
Andrew Pollard, director of the Oxford Vaccine Group and head of a UK vaccination committee.
He concluded by issuing a stark warning about the dangerous consequences of vaccine misinformation, highlighting that even "unintentional" comments from politicians can wreak havoc.
"Let's just say that comments made in mainland Europe affected people in Africa," he said.
Meanwhile in the United States, it's too early to be discussing a potential fourth dose of coronavirus vaccine for most people, Dr. Anthony Fauci, director of the National Institute of Allergy and Infectious Diseases, said on December 24
Is a fourth Covid-19 vaccine dose needed? US health officials say not yet
"I think it's too premature to be talking about a fourth dose," Fauci told Michael Wallace and Steve Scott of WCBS Newsradio 880.
■ A succinct but unintentional,  sadly misguided and uninformed overview of this conundrum was inaccurately revealed when reflecting on comments of President Biden on July 21 2021:
■ We think the virus – including the Delta virus, is much more transmissible and deadly in terms of unvaccinated people. The various shots people are getting now cover that. You're ok. You're not going to get COVID if you have these vaccinations."~ President Joe Biden, July 21, 2021 
■ December 27 2021: Wall Street Journal:
'Omicron is changing the definition of what it means to be fully vaccinated, because early studies suggest that current Covid-19 vaccines will require three doses to offer sufficient protection against the variant.'
'In the weeks since its discovery in late November, Omicron has rattled markets, closed borders and sent scientists hunting for what threat it poses compared with other variants.'CNBC:
Pfizer says booster shot of its vaccine protects against omicron variant
Initial two-dose Pfizer-BioNTech vaccine may not provide sufficient antibodies against the new variant, according to early data released by the companies.
2022–The Year Ahead 
As we prepare to enter the third year of the pandemic, we have been hoping for more normality and less Covid disruption by now. Case counts are soaring to all-time highs in most regions of  the world, and 2022 is shaping up to be just as uncertain as the last 12 months. 
Wall Street Journal:  January 3 2022
Covid-19 Cases Soar to New Records in U.S.
Holiday reporting delays mean real infection rates are likely higher, officials say:00 / 4:4What's After Omicron? How Scientists Hunt for New Scientists are using automation, real-time analysis and pooling data from around the world to rapidly identify and understand new coronavirus variants before the next one spreads widely. Photo Illustration: Sharon Shi
Updated Jan. 3, 2022 1:01 pm ET
■ Covid-19 infections continued to soar far above previous peaks across the U.S., as students returned to classrooms while some workers remained home after contracting or being exposed to the virus.
The seven-day average of daily reported Covid-19 cases in the U.S. reached a pandemic record 403,385 on Sunday, according to a Wall Street Journal analysis of Johns Hopkins University data. The fresh peak arrived even as most states paused reporting during the New Year's holiday weekend. Reporting delays will likely lead to spikes in reports of cases this week as states catch up. While Covid-19 tests remain in short supply in much of the U.S., Covid-19 testing was less robust last year, complicating comparisons between pandemic surges.
The Enlarging  Dichotomy  of  Vaccination
https://www.thelancet.com/journals/lanepe/article/PIIS2666-7762(21)00258-1/fulltext?s=08#%20
Overview:
High COVID-19 vaccination rates were expected to reduce transmission of SARS-CoV-2 in populations by reducing the number of possible sources for transmission and thereby to reduce the burden of COVID-19 disease. 
Recent data, however, indicate that the epidemiological relevance of COVID-19 vaccinated individuals is increasing. In the UK it was described that secondary attack rates among household contacts exposed to fully vaccinated index cases was similar to household contacts exposed to unvaccinated index cases (25% for vaccinated vs 23% for unvaccinated). 12 of 31 infections in fully vaccinated household contacts (39%) arose from fully vaccinated epidemiologically linked index cases. Peak viral load did not differ by vaccination status or variant type [
[1]]. In Germany, the rate of symptomatic COVID-19 cases among the fully vaccinated ("breakthrough infections") is reported weekly since 21. July 2021 and was 16.9% at that time among patients of 60 years and older [
[2]]. This proportion is increasing week by week and was 58.9% on 27. October 2021 (Figure 1) providing clear evidence of the increasing relevance of the fully vaccinated as a possible source of transmission.
That said, qualified in narrow terms , some progress has occurred against the coronavirus this year. There are now multiple vaccines that offer powerful protection against the worst effects of Covid, as well as remarkably effective treatments for those who become infected. 2022 will bring more advancements, too, and I'll be here to keep you updated on the science, and to gather the information and advice you need to live your best life during the pandemic. 
In this onslaught of oppositional views, there is no arbiter of truth to guide proactive responses that are now increasing viewed as  questionably safe …or effective for any extended time frame.
Commencing in January 2020 , as the world greeted a new decade, It has been an ever challenging contextual challenge to parse the colliding narratives of all Federal agencies, their constituents and allies  extending the oppositional dialectics of  WHO-the World Health Organization.
Vaccine expectations and assurances echoed by their pharma developers  spoke of 'neutralizing antibodies ' in declarative and breathless terms suggesting a bio-nuclear arsenal expertly targeting and infallibly annihilating COVID 19 forever.
In the span of a mere ten months it appears that the recurring waves of vaccine efficacy espoused by  the 2 leading Pharma providers—Pfizer and Moderna – have now been dramatically recast in the new phraseology of ' waning efficacy'  amplified by a  barrage of pharma industry contradictions, Federal agencies qualifying pronouncements, and cautionary commentary has driven virus risk –for both vaccinated and unvaccinated groups– skyward.
Sassover added: "Yet the reality is more of a national free fall of illness, confusion and escalating doubt as to the logic of compulsory punitive mandates, mask guidance and self serving proclamations posing as 'expert advice.'  Omicron joins Delta in the debut of 2022…another Covid year.
PFIZER DOCUMENT CONCEDES THAT THERE IS A LARGE INCREASE IN TYPES OF ADVERSE EVENT REACTION TO ITS VACCINE
Document released by Pfizer apparently as a result of a Freedom Of Information court order in the USA reveals a vast array of previously unknown vaccine adverse effects compiled from official sources around the world.
Pfizer concedes this is 'a large increase' in adverse event reports and that even this huge volume is under reported.
Over 100+ diseases are listed, many very serious.
This document was compiled by Pfizer in the very early days of the vaccine rollout in New Zealand.
Safety implications

Hospitals have been provided with a fact sheet from Pfizer 

listing 21 possible adverse events as a result of vaccination

.
All of these are minor, requiring little or no treatment other than rest, with the exception of severe allergic reactions, myocarditis and pericarditis (inflammation of the heart). 
As a result, most of the many thousands of reporting adverse effects post vaccination have been sent home with little more than advice to take an aspirin and rest. Some have been told that their conditions may be unrelated medical events, psychosomatic, or due to anxiety on their part.
Relying on the short official Pfizer fact sheet as a guide and following the publication of the new Pfizer document many more are expected to be connected with vaccination. Reports describe symptoms such as chest pain, brain fog, extreme fatigue, neurological symptoms, tachycardia, stroke, heart attacks, and many more. 
What are the new risks of vaccination?
Reading the new Pfizer adverse event report compilation one encounters greeted a density of technical medical terms and disease names nevertheless broken down into recognisable and serious categories of illness:
■ kidney failure, stroke, cardiac events, pregnancy complications, inflammation, neurological disease, autoimmune failure, paralysis, liver failure, blood disorders, skin disease, musculoskeletal problems, arthritis, respiratory disease, DVT, blood clots, vascular disease, hemorrhage, loss of sight, Bell's palsy, and epilepsy.
Pfizer's Conclusions
Pfizer concludes the released document with a statement "Review of the available data for this cumulative PM experience, confirms a favorable benefit:risk balance for BNT162b2." PM stands for the Post Marketing data set they are evaluating of 42,086 reported adverse events. Pfizer makes this claim of benefit despite admitting that "the magnitude of underreporting is unknown". 
This document contains no further substantive information in support of this claim of benefit:risk balance other than a mysterious reference to "the known safety profile of the vaccine".
In summary, the benefit / risk argument is in essence saying: covid-19 is a serious illness and our calculations show that more people will be injured by the disease than are being injured by the vaccine, therefore there will be an overall long term net benefit. 
This latest display of advocacy as an incentive is notable because of no less than three important and compelling factors: 
1- treatment options have improved and thereby the risk of serious illness and death from Covid has been greatly reduced.
2-Secondly the risk of Covid is not evenly spread. People with comorbidities (other conditions) and the elderly are at very high risk. Most other people are at comparably lower risk.
The third and most significant reason the benefit/risk argument  becomes hazy is the sheer range of adverse reaction types observed by Pfizer and kept hidden until now.
The manifold range of clinically observable  effects of a single vaccine
The technical reasons why mRNA vaccines can have such broad effects on human health are understood by those working in gene therapy. Perfectly stable DNA function is critical to life. In turn, cell function integrity is critical to maintaining DNA. Individual cells contain mechanisms to repair their own DNA as many as 70,000 times a day.
 From this perspective, the in vitro laboratory study recently published in Viruses 2021, 13,2056, is indicative. It suggests a possible mechanism for vaccine harm. The study found that the spike protein localises in the nucleus and inhibits DNA damage repair by impeding access of key DNA repair proteins. The findings reveal a potential molecular pathway by which the covid spike protein might impede adaptive immunity. They underscore the potential side effects of the full-length spike-based mRNA vaccines.
Despite a degree of cellular autonomy, the nervous system and the physiology must and does function as a whole. The entire nervous system including the immune system is a 'part and whole' network. The whole is in every part, the DNA is in every cell, but cell function is also related to a generalised and interconnected genetic network—the holistic functioning of the physiological network is critical to its efficiency. Thus physiological network stability (health) can be impaired by the introduction of pieces of active genetic code (biologic instructions) like those contained in mRNA vaccines.
Analogies as Guidance
Observers have drawn comparisons as noted:
An analogy will make this clear. We are familiar with computer networks. A very common backbone of most commercial systems is produced by Microsoft. Each computer contains the Microsoft system and the network also runs under its system. The system is supported by computer code—a set of complex instructions written by Microsoft. Individual computers can perform standalone tasks and can communicate with other computers to keep the organization running smoothly.
This can be compared to our physiology. There are many systems in the body: immune system, circulatory system, digestive system, limbic system, homeostatic mechanisms, musculoskeletal structure, neural networks, and so on. 
They perform apparently stand alone functions, but all run on the basis of the same genetic code contained in our DNA and communicate with one another during the process of maintaining health. Back to our analogy: office staff sometimes send messages full of spelling errors to one another but this doesn't harm the network. If however a computer virus written in code is sent by one computer it can overwhelm and crash network function because it affects the operating system. Some networks are protected by good firewalls and others are vulnerable. The Covid vaccine introduces a sequence of information written in genetic code into our physiology. 
It is no wonder that it could elicit such a very broad range of adverse effects, some of which are so serious as to be analogous to a computer network crash. 
Some individuals have strong immune systems and are little affected, others experience problems in one or other systems. The fact that a sequence of foreign code has been introduced into the physiology produces major risks to health, risks that those working in gene therapy for the last few decades are very familiar with.
The extremely broad range of adverse effects revealed by the Pfizer document is the physiological signature of a general control system failure, a failure of the body's overall integration and function. It is not plausible to suggest otherwise. That is why experts in genomics, even as I write, are pondering fundamental questions about the action and safety of mRNA vaccines.
"As 2022 arrives returning life to 'normal' is an Alice in Wonderland phantasmagoria pushing its way into every crevice of human life with manifold repercussions propelling an unprecedented descent into new terrain not previously known.
---
The business /tech sectors have reached unimagined levels of reward.
Yet here we are today: the economy is wheezing.
Elastic Rhetoric as 'Expert Advice'
In summary, we now see the 'expert advice' is an anemic phrase bordering laughable at an unlaughable situation. 
To visually grasp the disparities in accurate informed consistent assessment of the pandemic duty of Delta/Omicron it is necessary to backspace and view existing published data and disclosures some compelled by Freedom of Information  compliance requirements and BioPharma Post approval drug disclosure mandates.
CDC LAB NOTIFICATION: DECEMBER 2021
Pfizer Report-Feb 2021:
https://www.cdc.gov/csels/dls/locs/2021/07-21-2021-lab-alert-Changes_CDC_RT-PCR_SARS-CoV-2_Testing_1.html
What Are the Side Effects of Booster Shots?
These are the most common symptoms experienced after receiving an extra dose: The Centers for Disease Control and Prevention issued a statement on Dec. 16, recommending Pfizer's and Moderna's mRNA COVID-19 vaccines over Johnson & Johnson's single-shot product.  But "individuals who are unable or unwilling to receive an mRNA vaccine will continue to have access to Johnson & Johnson's COVID-19 vaccine," the agency says. The majority of vaccinated Americans have received the mRNA vaccines, and the CDC says the supply of them is abundant  — "with nearly 100 million doses in the field for immediate use."
En español | Millions of Americans can now get their COVID-19 booster shots from Pfizer, Moderna and Johnson & Johnson. As with the first round of vaccines, some people may experience a few mild to moderate flu-like symptoms after the shot. 
Here's what we know so far about the side effects from the boosters: 
Pfizer
So much about this third shot, which is meant to rev up the immune system so that it stays sharp in the fight against COVID-19, will be just like the previous two. Pfizer's third booster dose is the same formulation and the same strength as shots one and two. And data collected to this point suggests the side effects brought on by the booster are very similar to the symptoms some people experienced after the initial set — possibly even milder.
Need help getting a COVID-19 vaccine or booster?
Visit vaccines.gov or call 1-800-232-0233 (TTY: 888-720-7489) for assistance in English, Spanish, and many other languages.
Pain at the injection site was the most commonly reported reaction after receiving the booster, according to the clinical trial data Pfizer and BioNTech submitted to the U.S. Food and Drug Administration (FDA). About 83 percent of the trial's booster recipients reported it, followed by fatigue (63.7 percent) and headache (48.4 percent), most of which were mild to moderate.
 These findings closely mirror the side effect data collected from Pfizer's second vaccine shot. Other side effects recorded in the booster trial also fall in line with symptoms documented after the primary Pfizer series. They include muscle and joint pain, chills, diarrhea, vomiting and fever. And Pfizer's trial found that, compared to adults ages 18 to 55, adults 65-plus were less likely to experience these fatigue or flu-like symptoms after receiving the booster.
5 Common Side Effects After Pfizer's Booster
According to clinical trial data collected by Pfizer-BioNTech, the most commonly reported side effects after the booster shot were:
Injection site pain

Fatigue

Headache

Muscle pain

Chills
Source: Pfizer-BioNTech/FDA
That's not surprising, says Melanie Swift, M.D., cochair of Mayo Clinic's COVID-19 Vaccine Allocation and Distribution Workgroup. Most of the side effects are not a result of the vaccine, directly, but rather "an indication of your immune system reacting" to the vaccine, she notes. Meaning, the more robust your immune response is, "the more side effects you're going to have."
As people age, their immune responses typically dwindle, Swift says. This is why older adults are at the top of the list of people who should get a booster. New research suggests
that while the vaccines continue to provide a strong defense against hospitalization and death from COVID-19, that protection wanes faster over time in older adults.
There were no reported cases of myocarditis, pericarditis, anaphylaxis, appendicitis or Bell's palsy in the booster trial population (around 300 adults) during the study period. One symptom that the FDA highlighted, however: Swollen lymph nodes in the underarm were observed more frequently following the booster dose than after the primary two-dose series.
Moderna
5 Common Side Effects After Moderna Booster
According to clinical trial data collected by Moderna, the most commonly reported side effects after the booster shot were: 
Injection site pain 

Fatigue 

Headache 

Muscle pain 

Joint pain 
Source: Moderna/FDA
Unlike Pfizer, Moderna's booster shot is half the dose (50 micrograms) of the primary series. Even still, the side effects from this smaller-dose booster are similar to those reported after shot number two, the company says. For adults 65 and older, pain at the injection site was the most commonly reported symptom, affecting 76 percent of booster recipients, followed by fatigue (47.4 percent), muscle aches (47.4 percent), headache (42.1 percent) and joint pain (39.5 percent), an FDA review of Moderna's clinical trial data shows. Chills, nausea and vomiting were also recorded.
Overall, older adults were less affected by side effects from Moderna's booster shot than people ages 18 to 64.  No serious adverse events were reported during the window when the booster data was captured, and no new safety concerns were flagged during the trial.
Johnson & Johnson
5 Common Side Effects After J&J Booster
According to clinical trial data collected by J&J, the most commonly reported side effects after the booster shot were:
Injection site pain 

Fatigue 

Headache 

Muscle pain 

Nausea
Source: Johnson & Johnson /FDA
All 15 million Americans inoculated with the one-shot J&J vaccine are eligible for a second "booster" dose, at least two months after the first shot. But on Dec. 16, the CDC issued new guidance recommending the mRNA vaccines from Pfizer and Moderna over J&J's vaccine. 
Clinical trial data suggests that adults 60 and older who get the J&J booster two to three months after the first shot may experience pain at the injection site — about 40 percent of the participants 60-plus reported it. Roughly 29 percent experienced headache and fatigue, about 26 percent noted muscle pain, 12.4 percent had nausea, and 2.3 percent had a fever. The frequency of these side effects was similar to the first shot's side effects, albeit slightly less. 
The FDA analysis of J&J's booster study shows that no new safety concerns were identified after the booster dose; however, a rare but serious blood clotting disorder has been linked to J&J's vaccine, which is why the mRNA vaccines are preferred.
Who is eligible for a booster shot?
Everybody 18 and older who is fully vaccinated against COVID-19 is eligible for a booster and should get one, the CDC says.
When?
At least two months after a single-shot Johnson & Johnsons vaccine

At least six months after a two-dose Pfizer-BioNTech or Moderna vaccine
Additionally, 16- and 17-year-olds who received the second dose of Pfizer's COVID vaccine at least six months ago are eligible for a Pfizer booster. 
Source: CDC
Symptoms could be less severe after booster
If your last shot was a doozy, that doesn't necessarily mean the booster dose will be equally unpleasant. Real-world data from Israel's booster program and from vaccine safety monitoring in the U.S. shows that reports of side effects have been "substantially lower" after the third dose of Pfizer's COVID-19 vaccine than after dose one and two, according to a presentation given at the Sept. 22 Advisory Committee on Immunization Practices meeting — although this could be due to underreporting, researchers note.
And data from J&J's booster trial shows that side effects were reported less frequently after the second shot, compared to the first. 
It helps that booster recipients are already familiar with the coronavirus vaccines, says Robert Weber, administrator for pharmacy services at the Ohio State University Wexner Medical Center and assistant dean for medical center affairs at the Ohio State University College of Pharmacy.  They know the symptoms to expect and are more prepared to take care of themselves after the shot. "Once you get the vaccine, that anxiety and that fear is lessened … and so when you get future shots, you're going to be more comfortable," Weber says.
"I think people also understand how to manage the side effects better in terms of drinking plenty of water prior to getting a vaccine, drinking plenty of water after you get the vaccine, taking it easy the next day" and, if needed, taking an over-the-counter pain reliever after the vaccine to help manage any discomfort, he adds.
The time lapse between shot two and three for the mRNA vaccines, which the FDA says should be a minimum of six months, can also explain the milder side effects that some have experienced with the Pfizer and Moderna boosters, says Swift, who explains that "the farther away from the original series the booster is given, the less we expect side effects."  
What's more, health officials have said it's OK for people to get a booster shot that's different from their original vaccine. So if your experience with side effects was rough the first time around, ask your doctor if switching booster brands could make a difference.
3
things to keep in mind
Whether your symptoms after the booster are similar to the previous shots or are more mellow, Swift says it's important for people to know that side effects are "nothing to be alarmed about." They are expected and they are temporary. To date, no long-term side effects related to the COVID-19 vaccines have been detected, the CDC says. Serious adverse events after vaccination have happened, but are rare.
Another sticking point boosters: Stay flexible. This booster could be the end of the COVID-19 vaccine series or it could be the start of a more regular schedule, like the annual flu shot. "This is all still such an evolving landscape," Swift says.
And finally, while boosters have been the center of attention these last few months, it's crucial to remember that "the most important shot is not shot three or four, it's shot one," Swift says.
"We still have people out there who haven't had shot one, and that's much more critical to ending the pandemic than boosters. Boosters are icing on the cake. And I like icing on my cake, but we need the cake," Swift adds.
What to Know About Myocarditis
While rare, cases of myocarditis — or inflammation of the heart muscle — and pericarditis —inflammation in the sac that surrounds the heart — have been reported in adolescents and young adults who have had the Pfizer or Moderna vaccines. Cases typically resolve on their own with care, and health officials say the benefits of the vaccine far outweigh the known risks, especially since a viral infection like COVID-19 can also cause myocarditis.
Myocarditis and pericarditis have the following symptoms:
Chest pain

Shortness of breath

Feelings of having a fast-beating, fluttering or pounding heart
Seek medical care if you or your child has any of these symptoms. Patients can usually return to their normal daily activities after their symptoms improve, the CDC says.
Source: CDC
SOURCE:
Rachel Nania writes about health care and health policy for AARP. Previously she was a reporter and editor for WTOP Radio in Washington, D.C. A recipient of a Gracie Award and a regional Edward R. Murrow Award, she also participated in a dementia fellowship with the National Press Foundation.
Editor's Note: This story, originally published Sept. 24, has been updated to reflect new information.
​​More on Vaccines​​​